Coach - Rebecca Moore

 Rebecca Moore
Background:
I started riding age five and the attraction to and infatuation with horses was instant and enduring.  I have ridden and competed in dressage to medium level, low level eventing (85cm) and show jumping, hunted, worked in racing industry with pre-trainers, foals and yearlings, hacked around the roads & forests and started & trained most of my ridden horses. In 2004 unfortunately I had a rotational fall out on the hunt field, resulting in fractured pelvis & hip and although I still love to do small jumps, my main focus now is dressage. In 2017 I finished my EA Introductory Coaching and am currently working towards my level 1 General coaching & in 2018 I became an EA G Level Dressage Judge. Outside everything equestrian, I have been nursing since 1990 and currently I work full time as a Clinical Registered Nurse at the RAH in their Technical Suites/General Recovery. I live in rural SA (Kanmantoo) with my partner, two Burmese kitties and a tiny ancient dog.
Qualifications:
EA Introductory Coach

EA G Level Judge
Clinical Nurse (Peri operative/Technical Suites)
Who and/or what inspired you to be a coach?
I have always loved participating in and watching lessons/coaching. Four years ago I decided to do the EA Introductory Coaching course.  This provided me with the opportunity to develop further my riding, horse management and coaching skills in a well structured and proven pathway.  I am currently working towards completing my Level 1 General coaching.
Why do you coach?
I enjoy the reward of seeing people learn, improve and achieve their goals no matter how big or small. Coaching gives me a great gift by seeing other equine enthusiasts learning & having fun with their horses.
Do you have any special interests within the Equine coaching/equestrian field?
I love using poles in my training and coaching (Ingrid Klimke is my inspiration).

I use a lot of natural horsemanship techniques, especially with my groundwork.
What type of equestrian coaching do you offer?
Private individual, group lessons (max 2) and riding clubs: covering flatwork/dressage, poles, horse management and groundwork.
What do you see as the biggest challenge/area of importance in equestrian and coaching?
Safety (eg. helmets, safety vests/stirrups, appropriate rider/mount combination, frangible pins)

Horse welfare (eg. nose bands, hyper flexion, whiskers, soaring)
Social conscience (eg. in regards to equestrian competitions, general horse riding, horse husbandry & the racing industry)
What positive role/contribution can coaches offer for the future of equestrian sport and the welfare of horses & riders?
As a rider, ESA coach and dressage judge, I try and lead by good example and hope that I can influence & educate clients to develop a safe, achievable and holistic horse management and riding programme.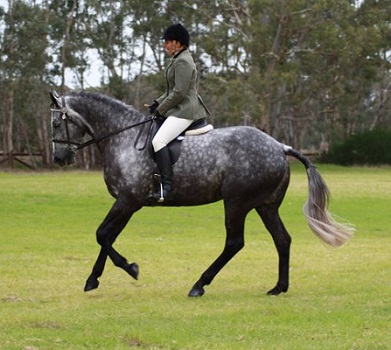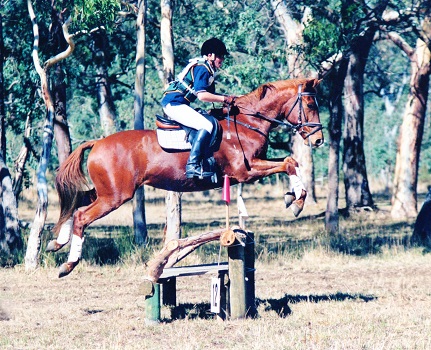 YouTube/Vimeo Links: