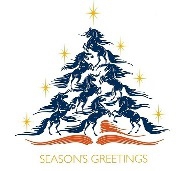 Christmas - New Year 2016-17
Merry Christmas and Compliments of the Season from the Board and Staff of Equestrian SA.
May your holiday season be all wrapped up with cheer and filled with celebration for the New Year!
We look forward to seeing you in 2017!
Our ESA office will be closed from 12.00 noon on Friday 23rd  December 2016, and open again 10.00am on  Monday 16th January 2017.