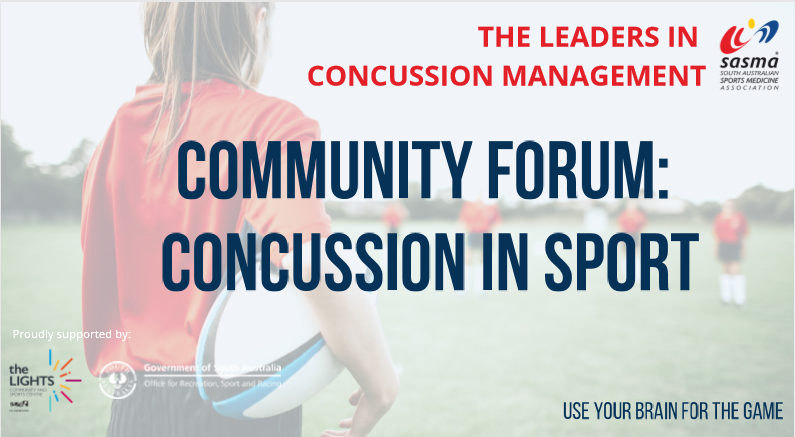 Concussion Forum
Upcoming Community Forum: Concussion in Sport, on Tuesday 23 March, 2021 at The Tailem Bend Football Club.  
The forum is free to attend and will run from 18:30 - 20:00. 
Dr Karthik Badrinath, Sports and Exercise Physician Registrar, will be presenting the Forum. Dr Badrinath works at both Wakefield Sports and Exercise Medicine Clinic and Sports Med, as well as working with the Adelaide Crows Football Club, seeing Sport related concussion regulary.  
Many of you will have attended these free forums in the past. The forum has been redesigned with education of players, parents, coaches, team managers and committee members in mind. Our aim is to educate and reinforce to these groups  the importance of correct concussion management and policy implementation. This has come directly from feedback from you, the Accredited Trainers, about getting more support from your clubs to manage concussion correctly. 
These forums are not designed to upskill Sports Trainers in Concussion Management protocols - this has been covered in your Sports Trainer Courses as well as in our Concussion Management for Sports Trainer Workshops.
We are more than happy for Sports Trainers to attend these forums, but I would encourage you to bring along fellow club members and those who you think need to learn more about the importance of Concussion. 
Attached is a flyer to view CLICK HERE
Due to venue restrictions, we do ask that anyone wishing to attend please register via this link: https://bit.ly/3pRcv0Y
We will be locking in more of these Concussion Forums across South Australia over the coming months. As soon as we have dates and venues locked in they will appear on our website. 
Thank you for your assistance in spreading the word on the importance of Concussion.