Eventing Update - Feb 19
Well the December issue did not happen..... Now it is February, and the Awards Night completed.
Congratulations to all Award winners in all disciplines – we will come back to that.
However let's start with a recap of Eventing's major event of the 2018 year.
AUSTRALIAN INTERNATIONAL 3DE, - Adelaide November 17 – 20th 2018
There was a huge atmosphere at this year's 3DE, in brilliant sunshine throughout, as we celebrated and remembered Gillian Rolton's life just one year after her passing with a lunch time tribute session with former Gold Medal Olympic team mates, Wendy Schaeffer, Juliet Haslam and Rachel Sporn, in the VIP Marquee during Friday's dressage phase.
Also hugely impressive were the three cross country courses presented so beautifully built & decorated. This year both the two star designed by Mick Pineo and the 4* under Mike Etherington Smith were significantly up graded in difficulty, particularly the 4* was tougher than previous Mike ES courses. The first difficult line to prove very influential was at fence 9A, B & C – a huge table on a curving 6 stride line to a wide apex followed by another apex on a very tightly turning 3 strides which did prove to be the undoing of several favoured combinations. The other equally difficult and influential combination came much later at Stag Corner where an apex to a wide tabletop between two sponsor Mitsubishi vehicles allowed no room for error to be able to also turn very tightly to the next apex almost at a right angle turn back. A variety of slow routes were used here and very few made the direct route. Both water jumps were more difficult with the first in over a narrow triple brush, while the return route through the Rymill Lake had a big suspended log some 6 or so strides in water to a double of acutely angled brush uprights – some inevitable faults also here. In contrast, the CIC 3*, also beautifully presented by Sylvia Roberts, caused little difficulty to most of the 3* competitors.
Only 6 SA riders were competing at Adelaide, with mixed results. No Megan Jones in the 4* as she was due to give birth to her first child in January. No Wendy Schaeffer as her 4* horse again was shoe-less on the injured list. Jaimie Stichel did not enter the 4* she had qualified for, but opted for the CIC3* which looked good throughout, but encountered problems at a late complex and retired. Sarah Clark riding LV Balou Jeanz completed a clear jumping cross country with some time faults into 7th, but dropped to 9th placing of 15 starters with a few uncharacteristic rails show jumping. Sarah however then went onwards to the CCI3* at Wallaby Hill two weeks later where she starred in placing 4th in a strong field.
Steph Hann & True Celebre did herself proud at her first Adelaide with a double clear cross country run, to lie 6th. Unfortunately, her nemesis of show jumping with 3 rails dropped her to finish 9th and down from first to second in the Young Rider category, while first in OTT TB – all around a great performance. Rachelle Verma & Koyuna Dark Sun also completed her first Adelaide, albeit in 28th place out of 48 starters, with a tired horse collecting too many show jump rails. Izzy O'Loughlin & Lagoes Choice tipped off at 10 when he left a leg awkwardly and Stephen Bow & Va Va Voom unfortunately retired after dressage with a shoeing issue.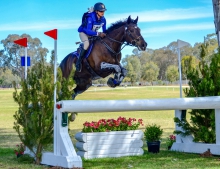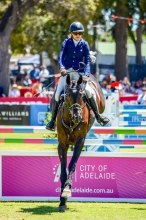 Sarah Clark & LV Balou Jeanz soaring over white rails XC and SJ to complete in 9th place CIC3*
Photo credits - Emma Kalderovskis.
Jaimie Stichel & Image Blue Ice strongly into water XC, CIC 3*
Photo credit - Emma Kalderovskis.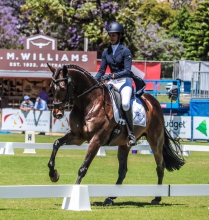 Rachelle Verma & Koyuna Dark Sun looking good in dressage.
Photo credit - Caption This Equine Images.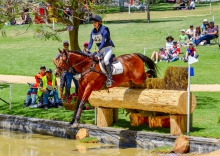 Steph Hann & True Celebre boldly into water for a double clear XC and SJ into 9th place CCI 2*
Photo credits - Emma Kalderovskis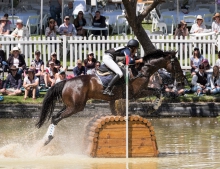 Rachelle Verma & Koyuna Dark Sun XC Rymill Lake
Photo credit - Atkins Photography, Terry Hann.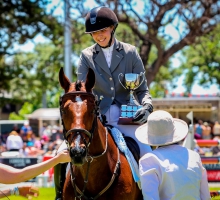 Steph Hann at Presentations 9th CCI 3*, 2nd YR and 1st OTT.
Photo credit - PYT Equine Photography.
Wallaby Hill International 3DE 29 Oct – 2 Dec. 2018.
Notable for the grandeur of the property and the extravagantly designed & built cross Country – no expenses spared here at the Wallaby Hill Farm of Alex Townsend and partner Derek – and ably designed by Mike Etherington Smith. Unfortunately marred by horrendously wet winter weather making conditions difficult - but obviously also a tough track XC when not even Shane Rose, in winning, made time and only 11 of 19 competitors completed. This puts Sarah Clark & LV Blue Jeanz effort in jumping clear in 5th fastest time into perspective as a brilliant result on her young 7 yr old horse, that only completed two star at Melbourne in June and has now placed 4th in a competitive CCI3* field. Looking good for the future.
Lara Pizimolas was also here in two roles, as a sponsor of the "Best dressed" Trot up prize, and a Trade stand operator with her business Dapple EQ – but also as a competitor on WHF Labyrinth in EVA95 for 17th place. Jade Kluske & Danson Gamestar made the long trip with her to finish 12th in EVA95.
2019 - New Year Happenings.
January 2019 – Congratulations to SA riders Steph Hann & True Celebre for their first ever selection onto the National Youth Squad and also to Jaimie Stichel & Image Blue Ice for retaining their place on the National Youth Squad. All the best for 2019.
Congratulations Megan Jones and James Deacon on the birth of their baby boy, Finnley. What a surprise Megan was hiding from us by not competing since missing Melbourne ! For the first time in many years, Megan is not currently listed in a National Squad. Wishing her a speedy return with her new 3* imported horse.
Congratulations Eventing committee member and Squad co=ordinator, Lara Pizimolas, on her Marriage to Paul Kluske, - much excitement at Dapple EQ and Sportspower Mt Barker.
Spring Eventing Season - Recap of 2018.
Mt Gambier HT 18 & 19 August.
Event marred by yet again driving rain, causing numerous withdrawals, and a Committee decision was made to run next year in September for hopefully better weather ! Could not find full results and event is not recorded on EA data base at all for 2018.
The top class, CNC2*, was won by Victorian Asha Warnock on ex SA horse Lane End Bond from Rachelle Verma & Koyuna Dark Sun having their first 2* start placing second, slightly faster, for once, than Steph Hann & True Celebre in 3rd.
CNC1* Jess Tainsh & Punching in a Dream won from SA's only placegetter, Chrissy Grear & Roger That in 2nd. EVA105 was won by Craig Andrews & Belstone Lucille continuing on her Autumn form with SA's Ashleigh Westcott & Renown Mr Truman in 3rd.
A few SA riders made the trek to Friends of Werribee HT, Victoria, 25 & 26th August with Chrissy Grear & Roger That placing a creditable 5th in a CNC1* large field and Hannah Hardy & City of the Moon placed 12th. Kristy Dodd & KL Columbus and Kate Haensel & Bexhill completed divisions of EVA105 in 25th & 21st places while Cathy Haensel outshone her daughter in winning the EVA95 div 3 on Caribou Sam !
Monarto HT September 1 & 2nd.
Disappointingly small fields for this event with the CNC1* being won by Sahara Warren & Shropshires Big Ben from Rebekah Foster & Carisbrooke Legs Eleven with Danni Hampton & Wynara Bronze Medal in 3rd and Kalinga Nora 4th as Danni also managed to be a major player in the Organising Committee at Monarto. Only 5 of 8 entries completed 1* while 5 of 9 completed EVA105 won by Enya Crockford & The Griffon from Charlie Germaine & Karin Edwards' Schavallo (also part of OC) while Jeanine Joubert & Mr Wilson completed in 3rd place.
EVA95 was won by Kate Haensel & Bexhill from Rhianna Shepperd & Wanna Thrill with Georgia Symons & Shine a Light in 3rd from a field of 12 starters.
In stark contrast to the higher classes the EVA80 had 28 starters and 23 completions, being won by Grace Neuhaus & Carly Digby's Tuxedo Cat from Kendra Petney & Belcam Carra with Chelsea Clarke & evergreen pony Mighty Murphy in 3rd.
EVA65 was won by popular Bronnie Juett & Huntington on her dressage score of 25.8 (74%). Sadly Bronnie lost Huntington soon after this triumph to a paddock accident. Thoughts are with you Bronnie. EVA50 was won by Claire Nitschke & Tassas Taboo.
Victorian Spring HT September 8 & 9th.
As an important opportunity for CIC qualifications several SA riders competed at the hugely popular Victorian event, with enormous entries compared to SA events !
Sarah Clark & LV Blue Jeanz completed CIC3* in 11th place of 16 starters.
CIC2* Rachelle Verma & Koyuna Dark Sun completed their Aus3de qualifications for CCI2* in 12th place, as did Steph Hann & True Celebre in 14th. (26 completions of 29 starters).
CIC1* was won by ex SA horse, Der Von Wedel with 42 completions in a field of 47 starters !
EVA105 had several SA riders in 4 divisions completing down the order, with Rachelle Verma & Gisella 13th, Jasmine Fordham & Kahean Trooper Ohara 21st, Nat Hughes & Willy Nilly 22nd, Chloe Jong & Copper Boy 30th.
Reynella SAHT October 20 & 21st.
Despite all the work put into course improvements with newish CD Mick Pineo, there were very disappointingly low entries throughout Reynella this October, most particularly in the Star classes with 1* having 2 completions from 3 entries and 2* had 4 completions from 4 entries. Organising Committees are finding the higher courses an increasing financial burden as entry numbers dwindle. Sadly, gone it seems are the days when Reynella was our prime CIC3* event leading into Adelaide 3de. OC's and Officials are struggling with ideas how to stimulate our sport in SA.
CNC2* with only 4 entries in this now highest class was won by Steph Hann & True Celebre from Rachelle Verma & Koyuna Dark Sun and Stephen Bow & Va Va Voom in 3rd, all three having a good, confidence building run in to Adelaide CCI2*.
EVA105 Rachelle & Gisella went one better winning their first 105 class from Jaimie Stichel & New World Roll Royce with Charlie Germein & Schavallo in 3rd. There were 5 Eliminations, 1 retired and only 8 of 14 completed this class – I hear talk there was a 'gremlin' hiding in a ditch & brush !
EVA95 saw Sarah Clark's beautiful young horse, Cassage S take the win from Jessica Hill & ESB Irish Illusion with Keely Pampling all the way from Barmera in 3rd. Again only 8 of 13 starters completed this class.
EVA80 had a much larger class with 18 of 22 completing and was won by Tilly Maywald & Spierwood Phoenix coming back from a long injury layoff, from young Kendra Petney & Belcam Carra and in an extremely tight finish, Kaitlin Teichert & Coolidowns Wrangler was 3rd – scores of 29.3, 30.5 and 30.8 barely separating the threesome.
EVA65 with the largest field, 24 out of 30 completions, was taken out by hard working Reynella Committee member, Hayley Roberts & Kilmallee Clooney.
Perhaps more of the younger rider generation, (like Hayley, Danni, Charlie, have done) could similarly offer help to struggling OC's.
Albury Wodonga HT October 27 & 28th.
A small contingent travelled to NSW for CIC3* experience, Sarah Clark & LV Blue Jeanz finished 12th, consolidating before Adelaide, while Jaimie Stichel & Image Blue Ice had a SJ problem but did have an excellent result with New World Rolls Royce 2nd in EVA105A.
EVA95 had Arabella Allen returning to eventing with Freedom's Ace for a 4th place, Cathy Haensel & Caribou Sam 7th and Kate Haensel & Bexhill 12th.
Sadly, Canoe Tree HT cancelled their pre Adelaide3de, Combined training and EVA65 & 80 ODE due to insufficient entries.
Aus3de & Wallaby Hill concluded the Eventing season 2018.
Gillian Rolton Youth Development Scholarship Weekend – December 8 & 9th.
This training and development weekend was held most successfully for a selected 10 Young R / Junior Riders from many applicants with Victorian 4* eventer and Nationally accredited coach, Will Enzinger, taking on the Coaching role while recently returned from years living and competing in UK, 4* rider, Wendy Schaeffer took the role of selector. Much laughter ensued from the 'scary' personal interviews of applicants and a winner was selected on a number of all round horsemanship criteria. We were privileged to hold the clinics at the excellent 3 phase facilities of Hallmark Farm, courtesy of Megan Jones & James Deacon.
Eventing Riders Start of Season Celebration, K1 Winery Saturday 26th January.
This almost traditional start up to the Eventing Season held at Geoff Hardy's K1 Winery & Cellar Door, was partly sponsored by K1 and by the Organising Committees who wished to attract a large number of riders to attend for free finger food and wine tasting, but also to attend a Discussion / Forum to explain problems faced by OC's and explain the rising financial cost of putting on a ODE to riders that they may have a better understanding of where their entry money goes.......
There was healthy discussion, but no financial solutions came to light !
February 8th, 2019 - Awards Night Winners
Connie Miller was the successful applicant for the Gillain Rolton Scholarship.
Steph Hann (who has won the past 2 years making her ineligible) won the Tasha Khouzam Memorial Award for the "Best Performed" Young Rider, as judged on performance points in events.
Sarah Clark won the Anna Savage Memorial Award for the "Best Performed" Senior Rider and her horse, LV Blue Jeanz won the Senior SA Eventing Horse of the Year – again judged on points gained..
CONGRATULATIONS to all Award winners.
 Di Schaeffer,
 For Eventing SA.