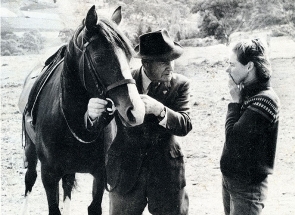 Tom Roberts - Campaign to preserve his works.
Tom Roberts is part of the history of horse training in this state. Founder of, and instructor with the Dressage Club of South Australia, a founder of and advisor to the SA Pony Club Association, a judge at many horse shows around Australia. He wrote four books, which have inspired many a modern day horse trainer, including Dr. Andrew McLean.
Pat Roberts his wife was a huge supporter of horse events over many years after Tom's death. On her death, Tom's collection has now come to Horse SA for preservation.
Horse SA has launched a crowdfund campaign to preserve and more widely spread the work of Tom Roberts, which includes a book about his methods, co-authored by Andrew McLean. PLEASE get behind this opportunity to preserve Tom's legacy and pay it forward to new generations
SHARE this link LIBERALLY http://www.pozible.com/project/196260  on your Facebook pages and donate to the cause.