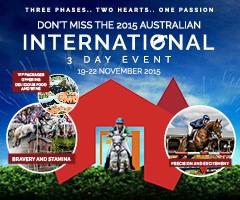 UK horse and rider attempt world first at Aus3de
UK rider, Alice Dundson will be attempting a world first at the 2015 Australian International Three Day Event (Aus3de) this November. She will be the first rider to bring her own horse to the event from the Northern Hemisphere, and the first rider in the world to compete in all six of the 'pro tour' FEI Classic Series CCI4* competitions on the same horse.
The 2015 Aus3de will be the fifth FEI Classic Event for the 29-year-old British rider from Surry and her horse, Fernhill Present. She has already competed at Les Etoiles de Pau, France (2011), Land Rover Burghley Horse Trials, UK (2012), Luhmuhlen CCI****, Germany (2013) and Rolex Kentucky Three Day Event, US (2014). If she finishes the event in Adelaide, Alice will aim for Mitsubishi Motors Badminton Horse Trials, UK next year.  
"My ultimate goal is to be the first horse and rider combination to compete in all six FEI Classic Events," Alice said. "I know it seems crazy, and a huge risk, but I am willing to give it a go!"
"Hilly (Fernhill Present) will be arriving in Australia on October 15, based in Sydney for two weeks. In the UK, my groom, Jenny McKibben will be looking after him in quarantine and I will be commuting from Surrey to exercise him."
"In Sydney, he will be at Eastern Creek in quarantine for two weeks with no riding allowed, then travel down to Adelaide to be based at the Magic Millions complex at Morphettville for two weeks before the competition," she said.
Aus3DE Event Director Gillian Rolton said the news is breaking ground for the 2015 Australian International 3 Day Event (Aus3DE) and Australian eventing.
"We are thrilled to welcome Alice and her horse Hilly to Adelaide to compete in the Australian International Three Day Event in November," Gill said.
"While we have had international riders compete on Australian horses, and horses in the UK wanting to come down, we have never had a horse and rider from the Northern Hemisphere compete on their own horse," Gill said. "It is a world first for us, and we are lucky to be part of the journey for Alice."
"We are working with the South Australian Jockey Club and Magic Millions to ensure Alice and Hilly have a smooth transition from across the globe and an enjoyable stay in South Australia. Hilly will arrive at Magic Millions in early November, two weeks before the event," she said.
The 2015 Australian International 3 Day Event (Aus3DE) is the pinnacle of horse sports in Australia and is one of the six top level Federation Equestre International (FEI) Classic Series events held around the world annually. The event will be held in Adelaide Thursday 19th to Sunday 22 November 2015. For more information visit www.australian3de.com.au.
Hashtag: #aus3de #FEIclassics
Facebook: www.facebook.com/aus3de