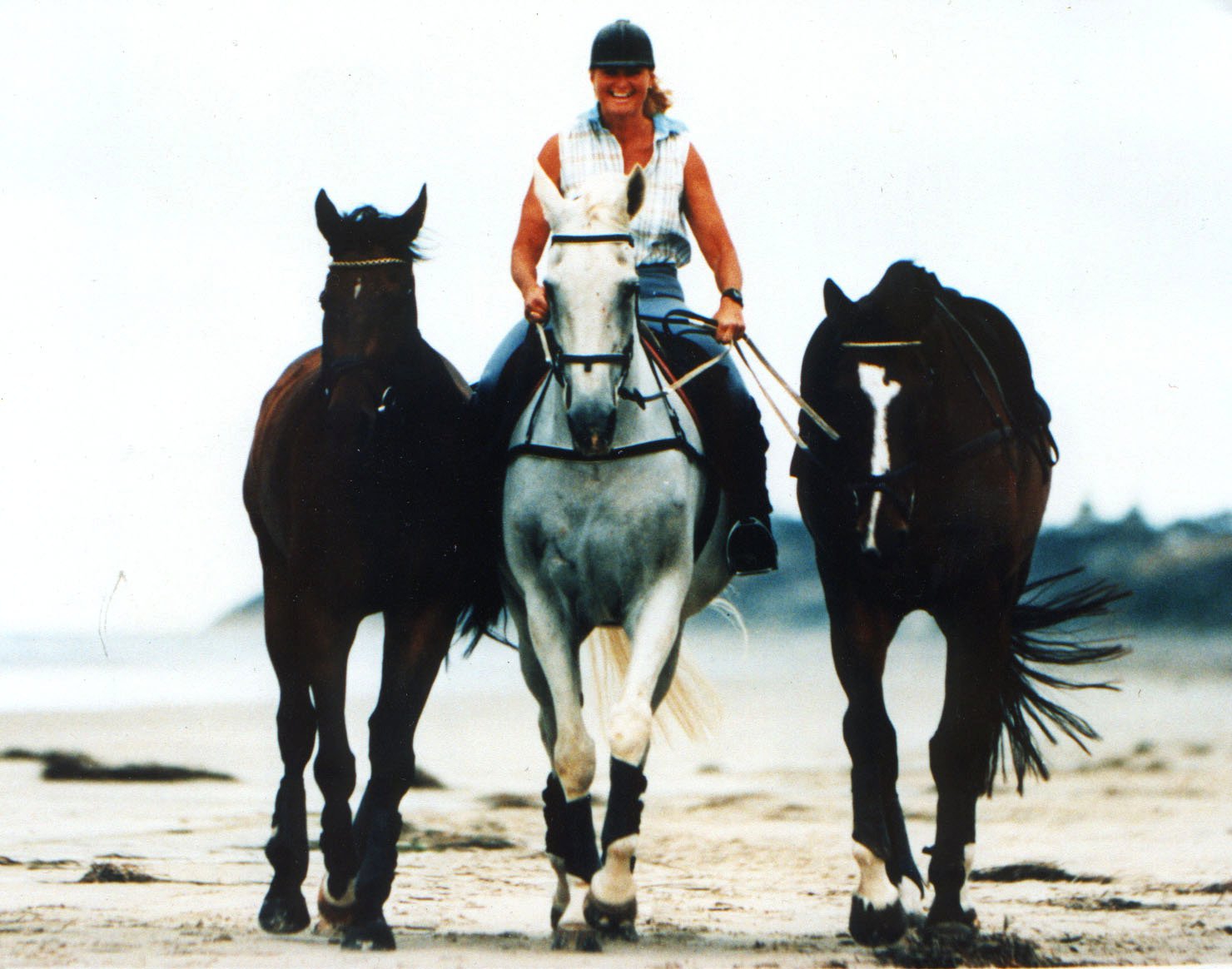 VALE GILLIAN ROLTON OAM – 3rd May 1956 – 18th November 2017
The Australian Equestrian Community is deeply saddened by the passing today of Gillian Rolton at the young age of 61 years.
Whilst Gill's name is synonymous with her famous horse Peppermint Grove aka "Freddie" her equestrian life and contribution extends much further than her Olympic achievements.
Not born into a "horsey" family Gill England worked very hard and her early riding was mainly on other people's ponies and horses where she achieved considerable success in the Show Ring and Dressage, including Champion Equestrienne and Champion Lady Rider at the Royal Adelaide Show.
However this was not enough for Gill and at the relatively late age of 21, Gill started Eventing and Show Jumping. Her first serious jumping horse was Saville Row who rose up the ranks so quickly that he and Gill were long listed for the Los Angeles Olympic Games. This was not to be, as unfortunately Saville Row sustained an injury in the final selection trial but Gill's dream of representing her country on the International Level was born.
In 1985 Gill married Greg Rolton. Greg has been alongside Gill all the way through her competition career and beyond and has been an outstanding sounding board and support for Gill in all her many equestrian endeavours and achievements. For the past 2 years he has devoted his life to supporting Gill in her courageous battle with cancer.
With Benton's Way Gill achieved her aim to ride in an International Event by competing as an individual at the 1986 World Three Day Event Championships at Gawler. She was long listed on "Ben" for Seoul in 1988 but again missed out due to injury, to herself this time, but did win the prestigious Australian Championships Advanced Class at Gawler that year.
In 1987 Gill bought Peppermint Grove (Freddie) and quickly developed a partnership that proved to be unstoppable and by 1991 they had been chosen in the Australian Team to compete in the Trans-Tasman Event in New Zealand which was the start of their International career together, finishing as the highest placed Australian rider in the event. With that performance and subsequent good results back in Australia Gill and Freddie were long listed for Barcelona in 1992 but the deal was that they had to fund their own way to England for the lead up events. Hurriedly a group of friends organised a huge fundraising evening and enough was raised to get Gill and Freddie to UK.
After a strong performance at Saumur in France and the final selection trial at Savernake in England, Gill was finally rewarded with a place on an Australian Olympic Team. At the Barcelona Olympics the Australian Team of Matt Ryan, Andrew Hoy and Gillian Rolton (One rider had been eliminated) were in second place behind New Zealand going into the final phase, the show jumping, All Australians show jumped well and came from behind to win the Gold Medal. Gill became the first Australian equestrian woman to "medal" at an Olympic Games. This was the start of the Australian Golden Era of 3 consecutive Olympic Gold Medals in Eventing. Gill, along with the other Team Members, was awarded the Medal of the Order of Australia for this achievement.
In 1994 Gill and Fred represented Australia at the World Championships in The Hague where the Australian Team finished fourth. Then in 1995 Gill and Freddie won the Australian Championships at Lochinvar in NSW and were subsequently selected as part of the Australian Team for the Atlanta Olympics.
Australia won the Gold Medal again with the Team consisting of fellow South Australian, Wendy Schaeffer, Andrew Hoy, Philip Dutton and Gill. Gill will always be remembered for her courageous ride at Atlanta where she fell twice, firstly on the flat where she sustained a broken collar bone and broken ribs and then at a very difficult water fence due to the fact that she now had no feeling in her left arm, only to remount and finish the gruelling cross country course. Gill will always be remembered for her gallantry in this ride which served as an inspiration to her fellow Team Members and to her adoring fans She and Freddie returned home as heroes.
In 1997 Gill and Freddie competed in the inaugural Australian Three Day Event in Adelaide. He was retired at the end of that competition to spend a happy retirement with Gill and Greg at their Clarendon Park Equestrian Centre.
At the Opening Ceremony of the 2000 Sydney Olympics Gill had the honour, with 7 other outstanding former Olympians, of carrying the Olympic Flag into the Main Arena. A fitting tribute.
Gill's sporting achievements have been interspersed with very many contributions to the sport in the Administrative, Coaching and Judging fields, in South Australia, Australia and Internationally. She is widely recognised as an accomplished trainer, judge, coach and administrator.
Gill was inducted into the Sport Australia Hall of Fame in 2000.
Previously both the 1992 and 1996 Australian Eventing Teams had been inducted into Equestrian Australia's Hall of Fame which recognises the achievements and efforts of its members in equestrian sport.
She was an inaugural inductee into the SA Sport Hall of Fame in 2010. In 2016 Gill was elevated to the Status of Legend. She is the only female to hold this honour alongside Sir Donald Bradman AC, Bart Cummings AM, Barrie Robran MBE and Victor Richardson OBE.
From 2001 to 2007 Gill initiated, co-ordinated and coached the Mitsubishi National Young Rider Squad to support talented young Eventing Riders in their transition to senior level. It was a time when the Australian Young Rider Eventing team was undefeated in Trans-Tasman Events. This was a very proud accomplishment for Gill.
She has held key administrative positions in the sport she is passionate about including National Selector, Chair of Equestrian SA and Chair of the National Eventing Committee, SA Eventing Committee as well as a 4 year appointment to the Federation Equestre International (FEI) Eventing Committee, the controlling body of the sport world-wide.
Gill stood down as a National Selector in 2007 to continue judging at FEI 4* Level internationally. She was honoured to be one of the Eventing Ground Jury Members at the London Olympic Games in 2012, followed by her appointment as President of the Ground Jury at the World Equestrian Games in Normandy, France in 2014.
She has also been Chairman at Blenheim, England, Blair Castle Horse Trials, Scotland and on the Ground Jury at Malmo , Sweden, Punchestown, Ireland, South East Games in Thailand and many other major events in Australia, New Zealand and overseas.
Gill is also Patron of the Pony Club of Australia and Patron of Riding for the Disabled SA.
In 2016 Gill was inducted into the Equestrian Australia Hall of Fame for Service to Sport. Previously, in 2007, the 1992 Olympic Team had been inducted into Sport Australia Hall of Fame.
Her impact on the sport has been far reaching and she has served as a role model to many up and coming riders. She was probably at her happiest on her arena at home helping these riders achieve their ambitions. As an EFA NCAS Level 3 Specialist Coach her knowledge and insight into riding is very well regarded.
But probably one of Gill's proudest achievements is as Event Director for the past 10 years of the Australian International Horse Trials – this year the Mitsubishi Motors Adelaide International Horse Trials, the much needed major sponsor in place for the next three years. Gill has worked tirelessly and passionately to ensure the success on not only a local and Australian level for this event but also its standing as an International Event. Her world-wide contacts and experience have ensured the continued success of this event and all Equestrian enthusiasts in Australia owe her a huge debt of thanks for her devotion to the event. Long may it continue.
Gill was given the Key to the City of Adelaide. This is the highest honour a City Council can bestow upon an individual or organisation and the Adelaide City Council was absolutely thrilled to be able to bestow this great honour on Gill in her hospital bed.
As a fitting tribute to Gill, Equestrian South Australia has named the Annual Youth Development Scholarships for all Disciplines the Gillian Rolton Youth Development Scholarships. Gill was very proud and honoured by this fitting tribute. She will be greatly missed.