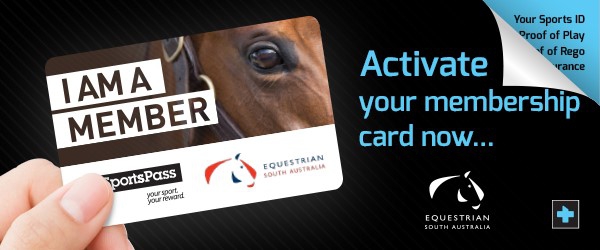 Equestrian SA - Digital Membership Card 2017-18!
Equestrian SA is excited to announce that we have joined with SportsPass as our digital membership card provider for 2017/18.
Current financial members will receive and email from sportspass and It is important that you activate your digital membership card as it is a proof of membership and proof of insurance requirement for all Equestrian South Australia members moving forward.
Equestrian South Australia strongly encourages you to activate your digital membership card for instant access to the promotional benefits it provides.
The email you will receive will have 3 simple steps to follow to enable activation of your card. 
Should you encounter any difficulties with activating your card please contact [email protected]
As a bonus for downloading your digital membership card SportsPass have kindly provided you with 12 months access to the SportsPass rewards program as well as the chance for you to win a JVC 55" SMART TV from The Good Guys.

Equestrian South Australia look forward to providing you and your family with a working solution designed to reduce your cost of riding.